My best of 2010 albums list has very little crossover with my best of
2010 songs list
. 2010 has seen some amazing albums released where some songs were maybe not amazing to stand out by themselves, but together on place in an album it just puts it all together. I was aiming for a list of 5. Then it became 10. And then it became 20. There's just been so many good albums put out over so many different genres that I couldn't separate them. So here's the top 20, starting with the two that just missed out.
22. Titus Andronicus – The Monitor
21. Kid Cudi - Man On The Moon II: The Legend Of Mr. Rager
20. Daughters - Daughters
Chaotic, noisy, math-hardcore. It's hard to describe this band as they blend so much in to their self-titled (and last) album. At times it's an assault on your ears that still manages to make sense in music, all while topped off with quirky, almost spoken vocals.
19. Crime In Stereo - I was Trying to Describe You to Someone
A turn around from their emo-punk days. Unfortunately their last album, they followed their friends Brand New with an evolution of sound into a more rounded, well produced rock feel. This comparison is not a bad thing, as Brand New are one of those few bands that continually change their sound, generally for the better.
18. Cower - Land Before Time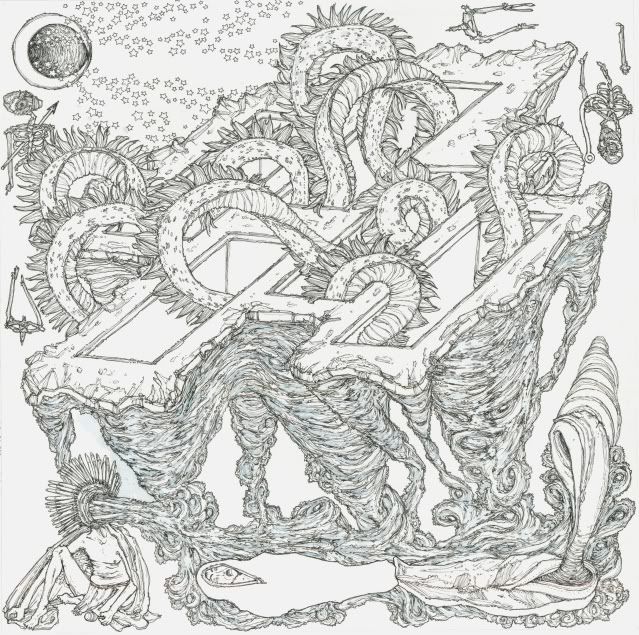 It's like Black Sabbath decided to form a hardcore band. Dark detuned guitars, with an almost Ozzy styled vocals but playing with more of a hardcore feel and riffs. At times there's also a very blues influence, including the random acoustic track towards the end of the album, which shows off some very nice acoustic guitar blues.
17. Ghostface Killah - Apollo Kids
After a remix album and an experimentation with R'n'B, Wu Tang's most prolific member (in my opinion) has returned to the style we know and love him for: that of a slick rapper rhyming about the grimey life of the streets. As always it features a slew of guest rappers from the mighty Wu, but Apollo Kids also includes guests such as Black Thought from the Roots and Busta Rhymes. This is almost as good as the Ghostface of old.
16. The Chemical Brothers - Further
The last Chemical Brothers album was an abomination on my ears.
Especially the fish song
. *shudders* Luckily on Further they've completely changed tack. Gone are the almost all the vocals. Instead we are left with 8 highly polished tracks of beautiful electronic music. Ranging from relaxing chill out parts, to dreamy sequences to full on assault noise and dance beats, this album has it all. An absolute masterpiece.
15. Envy – Recitation
Normally when I see the words "post-rock" mentioned anywhere near a band, I get a bit hesitant. When done well, it's beautiful music, but more often than not it sees my eyes slowly drooping shut until my neck rocks forward in sleep, as their seemingly never-ending soft-instrumentals lull me. And then there's Envy. It's not post-rock per se, but Recitation swims in a major post-rock influence. But then it's mixed (shaken and stirred) with screamo and hardcore. And what you get is one of the most beautiful albums ever recorded. The songs are so amazingly structured, it's almost symphonic. They build up from gorgeous melodies that just swell and swell until they hit a cinematic climax, at which point the crunching heaviness occasionally kicks in. The only bad thing about this album is that my minimal conversational Japanese I know isn't enough to understand the lyrics. But you don't need the lyrics, the beauty of the language just flows with the music.
14. Girl Talk - All Day

Sure, it's not "real" music. None of it is original. It's just an entire album of samples. But where most people would just mix a musical track with a lyrics track, Girl Talk goes OCD with the level of detail that only a musical fan boy could do. From the opening seconds of Ludacris over Black Sabbath, to the hidden gem that is Fugazi with Rhianna (and an appearance of Dr Octagon), Girl Talk rewards his listeners for paying attention. All Day is an all-encompassing and never ending game of "name that song" (here's the
answers if you want to cheat
). And he's made all the samples work together to actually sound like real songs. A whole 71 minutes. A whole 71 minutes that was released for free, just to make it sweeter.
13. Toadies – Feeler
I'll be honest, before I heard this album I was like everyone else in the world: I only knew of one Toadies song,
Possum Kingdom
, all the way from the mid nineties. And that's the reason why this album is rating so high for me. It sounds like they pulled it straight out of the mid 90's and right into 2010. It's that raw grungy-sound that defined 90's alternative rock. Which is more or less what this album is. It was originally recorded as their second album in 1997 and 1998 and was just never released due to label disputes. Until over a decade later. The songs still sound relevant in this modern musical landscape, probably more so than the 90s, as that grunge sound has almost died away and is now unique again.
12. Meth, Ghost & Rae - Wu-Massacre

Wu-Massacre is about as close to a real Wu-Tang clan album we'll ever get these days. It's got three-eighths of the Wu artists on every track, with more guest appearances (as you'd expect from any modern rap album). At times it's more polished than what you'd expect from a Wu album, but there's plenty of old school sounding moments when for a glorious few minutes you think it's the full group.
11. Robert Plant - Band of Joy
Not bad for a 62 year old. Not bad for a 62 year old that once fronted the greatest (source needed) rock and roll band ever. Of course there will be comparisons drawn from Band of Joy to Led Zeppelin, but I won't be one to indulge much in that. All I will say is that it sounds more like the quieter Zeppelin songs (think like All of My Love and
Travelling Riverside Blues
). Band of Joy, with no comparisons to classical rock, is just a good album of blues and southern American influenced rock and folk. It's the kind of songs that you could easily imagine playing around a campfire as the night wanes on. And on some of the tracks there's a beautiful female harmony added in.
10. The Walkmen - Lisbon
After blowing me away with their first single the
Rat
in 2003, the Walkmen has been one of those bands that are very hit and miss. Each album has a few good tracks and then the rest just become a screech in my ears, with the singer's vocals wavering and not finding key. However, Lisbon is what happens when they finally get it right. The Walkmen have finally managed to live up to their potential (in my eyes at least). They've nailed the melodies in what is a very laid-back and relaxed indie release.
9. The Chariot - Long Live
Long Live is chaos. From the very first seconds of the opening track Evan Perks, as the feedback whines and fills the speakers, the Chariot just explode. The chaos treads a fine line to just becoming horrible noise, but somehow it never crosses the line. It's so chaotic that at times the songs gets interrupted half-way through with a random olde-timey sample or there's a guest vocalist with an oddball voice that pops up. The Chariot has always been that Norma Jean copycat band (due to their histories together and very similar sounds) but Long Live has finally seen them establish their own sound.
8. Nas & Damian Marley - Distant Relatives
A combination of hip-hop and reggae and songs about African-American roots in Africa. Take one of the better MC's (Nas) and the son of reggae's demi-god (Damian Marley, who's pretty damn good himself) and there's really no way this album fails. There's some great jungle-inspired beats overlayed with some uplifting and almost inspirational lyricism. It's not often (in my narrow view of the hip-hop world at least) where artists dedicate an entire album to a theme. Nas and Damian have really nailed the them with great music in Distant Relatives.
7. Norma Jean - Meridional
Norma Jean's last album, the Anti-Mother, moved away from their traditional song writing strengths. They softened down and wrote full length songs. The fans will tell you it wasn't their best work (myself included). However, on Meridional they return with full crushing force. The songs return to the same style as the magnificence that was their album Redeemer. Crushing and dirty guitar riffs, repeated and shouted lyrics interspersed with surprisingly quiet (yet still aggressive) fills. Not quite on par with Redeemer, but in my opinion it's their second best album.
6. Neil Young - Le Noise
Many would say Neil's greatest work is in the past, and I'm not one to argue against that. Lately he's come up against that great wall most artists with more than a few 'good' albums face: how to reinvent themselves. And with Le Noise, Neil has done an outstanding job. The album producer has just stripped everything away from Neil Young's music, making it just a man, his guitar, his voice and his lyrics. What is left is just raw: emotions and music. Whether it's a song with reverb and feedback on his electric guitar and loud singing, or just a soft sounding acoustic with equally soft vocals, it's a side of Neil you've yet to see. It makes him almost seem frail and weak, while still trying to maintain a strong revolutionary frontage. It's a very good symbolism for the man he is now. Plus it's called Le Noise for a reason. It gets quite noisy at times.
5. The Bouncing Souls - Ghosts on the Boardwalk
As a huge Bouncing Souls fan, this album was a long time coming. Their last record, the Gold Album, was anything but gold (
so much that in their last tour they played zero songs off the album
). Most of Ghosts on the Boardwalk had been leaked with their 20th Anniversary 7 inch series, but I didn't care. When it came together as a package, it became a great album. From the beginning build up of Gasoline to the typical fast & hardcore nonsense that is Badass, this is a great album. They've slowed up their hardcore/pop-punk (maybe their age) but they still manage to rock great songs.
4. Isobel Campbell & Mark Lanegan – Hawk
These two, without a doubt, have the sexiest voices in rock and roll (well, maybe with a Tom Waits exception). Over the past few years the former Belle and Sebastian cellist and Screaming Trees/Queens of the Stone Age singer have put out a few albums of alt-country/folk ballads. I'd heard them and thought there were a few great songs, but then out of the blue came Hawk. Maybe it has something to do with the fact I saw
Mark Lanegan play
at around the same time I got this album, but I fell in love hard with Hawk. Hawk covers everything from soft and sad vocal songs, to old school American-country/rockabilly, to 1960's noisy garage rock jams in the title track (is that a distorted saxophone I hear in there?). All of this in an album that maintains some sort of beauty over the whole length, and is so accessible that even my Dad could listen to it while harvesting grain for 14 hours a day (and he did).
3. Los Campesinos! - Romance is Boring
Where the hell has Los Campesinos been my entire life?! On Romance is Boring this Welsh band carves out a luscious, and at times orchestral, indie-keyboard-pop. Each song is beautifully layered with the mix of instruments. The songs feel like they have a mind of their own, changing keys, time signatures and beats at random times, like the mathcore bands I love. But then there's the vocals. A brooding male and a chirpy female interplaying with each other. Singing some of the most poetic and literary lyrics I have ever heard. Most of the lyrics are fairly jaded, obviously about the death of romance and love (as per the album title). Romance is Boring takes me on a roller coaster ride of sad and brooding, angry and noisy, happy and dancing and soft and contemplative... It's as if they chronicled an entire relationship into an album.
2. Dangers - Messy, Isn't It?
From the start, with the guitar twanging and Al asking "Why didn't you kill yourself today?" you can't help but feel the anger. The guitar is heavy and low, the vocals are spat out at you with such ferocity and the lyrics themselves are dark and disturbing (although some songs such as Opposable are almost laughable at its word play). Throughout the course of the album we hear snippets of people incanting "It's so nice to wake up in the morning all alone and not have to tell somebody you love them, when you don't love them anymore". There are songs about the speed at which cancer can strike you down (based on his grandfather's death) and prejudice towards homosexuals. Messy Isn't It definitely covers all of the darker sides of life we want to ignore, with the accompanying hardcore music complementing the anger towards the dismissal of this subject matter. And it fucking rocks hard.
1. Bars of Gold - Of Gold

From the 8 bit intro of the song Boss Level, you know you're listening to something unique and different from most music. It starts as an homage to 80s video games (the music, the lyrics "you ride a horse you better carry a gun" and even the song title!) before sliding into a punk guitar feel. The rest of the album is just a curve ball. It jumps all over the place from dance guitar, banjos, math-rock, hardcore, punk, country and folk. When reading it, it sounds like an absolutely bloody mess. But it works so wonderfully together. It's probably not for everyone, it sounds rough around the edges but it's this kind of music that I truly love. Bars of Gold, the bastard child of hardcore band Bear vs Shark, shows that musicians are willing to put everything out there and experiment with new sounds and still make great music.